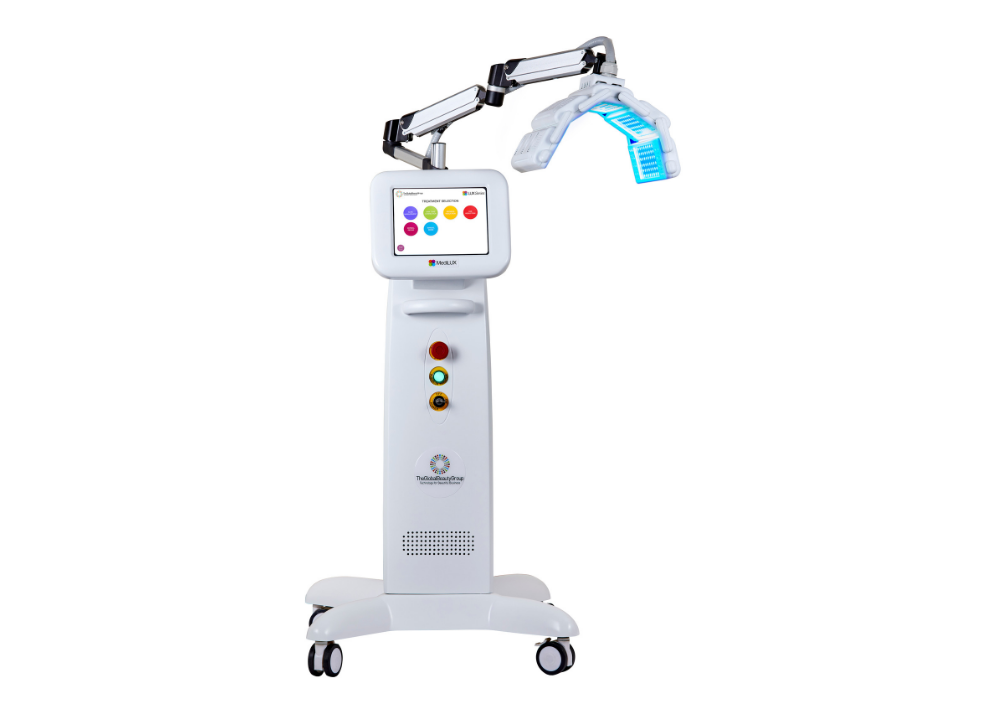 MediLUX
MediLUX is the latest evolution in complete LED technology to join the LUX Series range of clinical grade devices at The Global Beauty Group.
Researched and developed by our expert team, MediLUX delivers unprecedented service power and treatment scope — allowing clinicians to push their LED service potential higher than ever before.
Call AU
1300 655 013

, NZ

0800 398 749


or click here for a free, no obligation quote
The Global Beauty Group
Client Experiences
Ultimate Power Output
MediLUX boasts ultimate power output per wavelength, meaning both clinician and client can experience higher strength clinical results when compared to other LED systems on the market.
Blue (415nm)
Green (520nm)
Yellow (590nm)
Red (622nm)
Near-Infrared (830nm)
Best Price Guarantee* Call Today!
Ultimate Versatility For Unprecedented LED Results
Not only does it achieve results through the simple application of therapeutic LED light alone, with no consumables necessary (unless desired), it is also non-irritant — making LED suitable for all skin types, including sensitive and reactive.
We have streamlined industry leading LED technology into a smart, portable system that integrates seamlessly into even the most space-limited treatment rooms.
LED treatments with MediLUX may be performed with a single strategic wavelength, or layered with multiple wavelengths to intensify results and customise skin services .
With a large, adjustable LED panel, unique, non-facial services such as the back and stomach can be performed expanding your treatment menu even further.
Top 6 Treatment Outcomes
Near Infrared boosts adenosine triphosphate production (ATP) to promote healing, DNA repair and cellular regeneration.
Reduces sebaceous actvity and kill acne-causing bacteria.
Stimulates Tyrosinase Inhibitors to reduce the appearance of pigmentation.
Increases hydration and thickness. Beneficial for rosacea and post-laser.
Encourages circulation, lymphatic flow and ATP production.
Reduces skin and tissue inflammation and speeds up healing of lesions and wounds.
Beauty Equipment Sales and Financing
Please also view our Sales and Financing options for a solution that works for your salon, or call our team of experts now on AU 1300 655 013 or NZ 0800 398 749 and let us help tailor a custom made solution to suit your individual business and budget.

The Global Beauty Group Best Price and Quality Guarantee
All customers can rest assured that we deliver the highest quality products at the lowest prices, guaranteed! We guarantee to beat any genuine competitor's quote on our full range of products, so talk to one of our friendly consultants today. Experience our fully comprehensive and personalised customer service and see for yourself why The Global Beauty Group is Australia's premier aesthetic beauty equipment supplier.
Call us now for a free, No obligation quote on AU 1300 655 013, NZ 0800 398 749